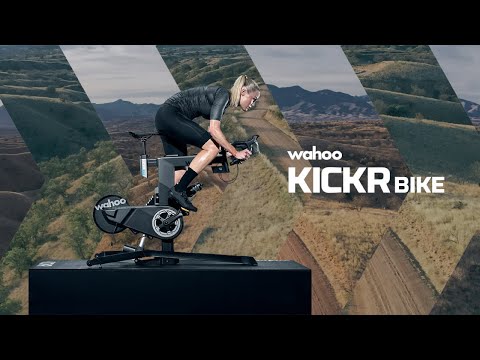 Wahoo KickR Bike
PLU1158465
The Wahoo KickR Bike offers unprecedented innovations such as integrated grade changes, customizable gearing, and simulated shifting to create the most powerful, personalized, and realistic indoor training experience.Creates unparalleled responsiveness and power accuracy of plus / minus 1%. Real-time grade changes will match ascents of up to 20% and decents of minus 15% while allowing you to maintain speed and truly replicate the sensation of riding outdoors.Compatible with the most popular training apps, such as The Sufferfest, Zwift, TrainerRoad and more.
Manual control of grade changes if wanted while resistance is still app controled
Optimized flywheel technology - 5.9kg flywheel and enhanced motor
Virtually silent operation - balanced belt driven motor
Controlled resistance - connected to your phone, tablet or computer it will automatically set your resistance via your favorite app
Adjustable crank arm - supports 165, 167.5, 170, 172.5 and 175mm crank lengths
Programmable virtual shifting - match shifters from the leading manufacturers - SRAM, Shimano, and Campagnolo
Programable gearing - Replicate your outdoor bike down to the exact gearing configuration
Realistic ride feel - emulates the power and inertia experienced during outdoor riding.
Real-time physical grade changes - both with changes in resistance and in physically raising and lowering the bike to match ascents of up to 20% and d
Plus / minus 1% accuracy - generates up to 2200W.
Calibration free
Easy App set up - Wahoo Fitness app offers guided instructions on how to set-up
5 Points of adjustable fit - stack, reach, setback, saddle height, and frame height.
Customizable kit - add your favorite saddle, bars, and pedals to dial in the perfect setup.
ANT+, ANT+ FE-C and Bluetooth connectivity
Supports up to three simultaneous Bluetooth connections for a trouble-free start to your workout
Digital LED display - indicates gear selection and grade percentage
Professional grade durability
Measures speed, distance, power and cadence without connecting any additional sensors
Virtual Braking - electromagnetic flywheel and motor allow for quick braking to create a precise feel while shifting and while riding downhill.
KickR Headwind and Elemnt Bike Computer compatible
Third party app compatible - works with popular training apps, including Zwift, The Sufferfest, and TrainerRoad
User Height Range:152 cm to 193 cm
Max User Weight: 113kg
This product has not yet been reviewed.
We only publish verified purchase reviews to ensure the most accurate feedback.
Express Delivery is 1 to 3 working days (Monday to Friday 08:00-17:00, excl. Public Holidays) and is subject to:

Stock availability
Main centre deliveries only
Basket only consist of Apparel, Tech, Fan Gear and Footwear

Standard Deliveries is 3 to 5 business days (Monday to Friday 08:00-17:00, excl. Public Holidays)
View our delivery rates.
View our delivery policy.
View our refunds policy.