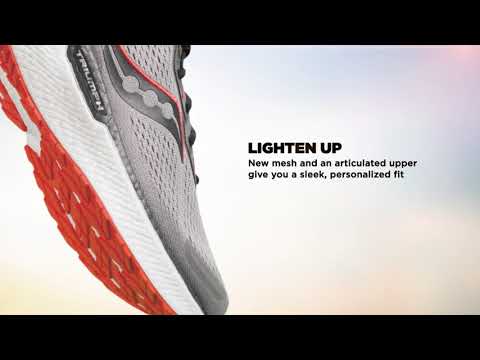 Saucony Women's Triumph 19 Road Running Shoes
PLU1153305
Everything about the Triumph 19 feels just right. With an ultra-plush bed of PWRRUN+ cushioning and a cloudlike lightness, it's a dreamy shoe that'll have you waking up stoked for your next long run.
Heel-to-toe Offset: 8mm (32.5mm heel/24.5mm forefoot)
Weight: 259g (in UK5)
Lighter footprint: This style contains recycled materials.
Formulated for the softest underfoot feel, PWRRUN+ gives you more cushioning with less weight for an unbelievably plush and springy ride
FORMFIT hugs the foot in 3D comfort and delivers our most personalized fit yet
New engineered mono-mesh upper for enhanced breathability at a lighter weight
This product has not yet been reviewed.
We only publish verified purchase reviews to ensure the most accurate feedback.
Express Delivery is 1 to 3 working days (Monday to Friday 08:00-17:00, excl. Public Holidays) and is subject to:

Stock availability
Main centre deliveries only
Basket only consist of Apparel, Tech, Fan Gear and Footwear

Standard Deliveries is 3 to 5 business days (Monday to Friday 08:00-17:00, excl. Public Holidays)
View our delivery rates.
View our delivery policy.
View our refunds policy.