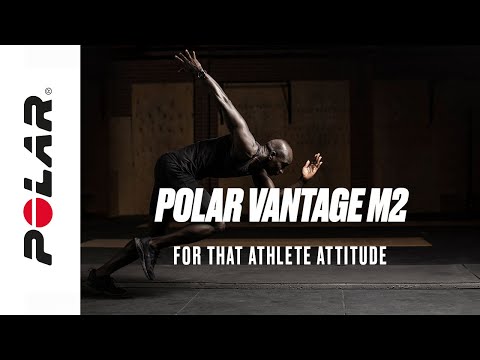 Polar Vantage M2
PLU1154667
Polar Vantage M2 is your all-in-one companion on your way towards new PB's. It gives you the guidance and data to help you get stronger and essential smartwatch features to keep you connected.
Measurements: 46 x 46 x 12.5 mm
Weight: 45 g with wristband, 28 g without wristband
Materials: Glass fiber reinforced polymer case. Stainless steel bezel, buttons and buckle.
Display: Always on color display. Hard-coated PMMA laminated lens. Size 1.2", resolution 240 x 240.
Battery Life: up to 30 h in training mode (GPS and wrist-based heart rate) or up to 7 days in watch mode with continuous heart rate tracking.
GPS: Integrated GPS & GLONASS. Assisted GPS for fast fix times.
Connectivity: Bluetooth Low Energy. Custom USB cable for charging and data synchronization.
Watch: Time & date. Alarm with snooze.
Sensors: Compatible with all standard BLE heart rate sensors and running cadence and power sensors as well as cycling speed, cadence and power sensors
Water resistance: Waterproof (WR30)
Sizing: Wrist circumference 130-210 mm
Two wristband size options included in the package.
Wristband material: Silicone, stainless steel buckle
In the box: Polar Vantage M2 multisport watch, wristbands, charging cable, Polar Vanatge M2 user manual and information note
Designed for Function - Let your athlete attitude show wherever life takes you.
Athlete's Essentials (with Pro-Level Accuracy) - Advanced wrist-based heart rate and GPS, GLONASS, Galileo and QZSS.
Long Battery Life & Power Save Options - Power through even your longest sessions with 30 to 100 hours of continuous training mode.
Nightly Recharge Recovery Measurement - learn how well your body recovers during the night.
Training Load Pro - Keep your load in control and find the balance.
Fitspark Daily Training Guide - Work out without burnout with ready-made workouts that match your recovery and readiness.
Fuelwise Smart Fueling Assistant - Fuel up wisely during that extra long training session.
Running Program - Crush your running goals with personalized and adaptive training plan.
Music Controls - Easily navigate around your playlist and adjust volume straight on your watch.
Phone Notifications - Stay connected with push notifications from your phone.
Weather - Prepare for the elements with weather info & forecasts
Weekly Summary - Easy access to your weekly training stats, history and plans, straight on your wtach.
Energy Sources - See how your body uses different energy sources during a training session.
This product has not yet been reviewed.
We only publish verified purchase reviews to ensure the most accurate feedback.
Express Delivery (1 to 3 working days) is subject to stock availability, limited to main centres and only applies to items accordingly identified. Orders placed on a Friday will be delivered on the following Monday or Tuesday. In the case of a mixed basket, our standard delivery policy of 3-5 working days will apply.
Standard Deliveries will be made within 3-5 business days upon acceptance of your order. Note, for certain outlying areas we have to use regional third-party couriers and while every effort is made to expedite delivery, service to these areas may take an additional 2 days.
View our delivery rates.
View our delivery policy.
View our refunds policy.